YourLibrary Software for Lending Library Management
YourLibrary is a program for the management of small to medium sized lending libraries such as schools, clubs and churches. The software is user friendly and transparent; your staff will require little or no training to run it, just a basic understanding of Windows.
By clicking on the "Download YourLibrary" button, you can download a free evaluation copy of YourLibrary, which is fully functional but is limited to 20 members and 20 books.
System requirements:

PC with Windows 98, Me, 2000, NT, XP, Vista, 7, 8 and 10. &nbsp&nbsp&nbsp&nbsp&nbsp&nbspYes, it works with Windows 10
Minimum of 16 MB RAM.
Minimum screen resolution 800 x 600.
Pricing:
The price for a single site licence is US$150.00 for the light version (up to 3,000 loan items) and US$280.00 for the full version (one million loan items). There are no monthly fees and the price includes technical support by phone and email. The program can be run on more than one PC on a network at no extra cost.
Click here for currency converter.
Features:
Member database
Book database
Track loans
Calculate and accept fines
Renew loans
Print barcode labels for books
Print membership cards (with photos)
Up to 5 types of loan items (eg books, periodicals, DVDs) with different rules

Reservations
Send e-mails when returns due
Password protected setup
Data file backup
Comprehensive reports
Block access for delinquent members
Option for online reservations
New in version 2.2: send phone notifications (text to voice messages) through CDyne
End user licence agreement | How to uninstall the program
YourLibrary is published by GrenSoft. Clicking on the download button will take you to the primary distribution source for YourLibrary software.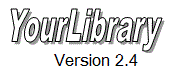 Software for libraries
by GrenSoft
Phone: +1 888 213 4610
(Toll free USA & Canada)






rating from software.informer