RoomMate Hotel Reservations Software
RoomMate is an inexpensive software package for small to medium sized hotels (200 rooms maximum). It is written in Windows style using Visual C++, the programming language which is used for most serious applications.
The program is user friendly and transparent - you will be amazed at how easily your staff can adapt to the software without any special training. A basic understanding of Windows is all that's required.
By clicking on the "Download RoomMate" menu item, you can download a free evaluation copy of RoomMate, which is fully functional but is limited to 25 room bookings.
System requirements:

PC with Windows 98, Me, 2000, NT, XP, Vista, 7, 8 and 10. &nbsp&nbsp&nbsp&nbsp&nbsp&nbspYes, it works with Windows 10
Minimum of 16 MB RAM.
Minimum screen resolution 800 x 600.

NEW: WEBLINK MODULE

The WebLink module uploads data files to your Web site and allows customers to check room availability and make reservations online.
Pricing:
The cost of RoomMate is US$240.00 for hotels with up to 20 rooms, plus US$20.00 for each additional 10 rooms. For example the cost to a hotel with 50 rooms is US$300.00. You may upgrade your licence at any time by paying the difference in price, for example if your hotel expands and the number of rooms increases.
Click here for currency converter.

End user licence agreement | How to uninstall the program
RoomMate is published by GrenSoft. Clicking on the download button will take you to the primary distribution source for RoomMate software.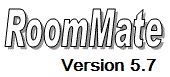 Hotel Reservations Software
by GrenSoft
Phone: +1 888 213 4610
(Toll free USA & Canada)







rating from software.informer