Download ParkTracer Software for Long Term Parking
You can download a FREE evaluation copy of ParkTracer simply by clicking on the download button below. The program is fully functional but is limited to 25 parking transactions.
When you decide to purchase ParkTracer we will provide you with a registration key. The next time you run the program you can enter the registration key so that the limitation is removed.
The file to be downloaded, pt_install.exe, is a self-extracting zip file (size 1.62 MB). When you run the file, ParkTracer will be installed in the folder C:\ParkTracer, a shortcut to ParkTracer will be placed on your desktop and the program will be added to your Start menu.




ParkTracer is published by GrenSoft. This is the primary distribution source for ParkTracer software.

What if Windows prevents me from running the installer?




Problems downloading? If your computer will not allow you to download the file and you are using Internet Explorer, this may be because your browser security settings are not set correctly. Go to the Start Menu on your PC, then Settings, then Control Panel, and click on Internet Options. Select the Security tab, then click on the Custom Level button. Scroll down to File Downloads and make sure that the Enable radio button is clicked. If this doesn't help, please email us and we will send the file as an attachment.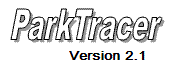 Software for long term parking
by GrenSoft
Phone: +1 888 213 4610
(Toll free USA & Canada)